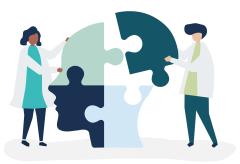 The BCGEU Innovative Education Support (IES) Fund is to maintain and promote high quality education, diversity and access to programs and courses. VIU shall provide support for instructors to enhance their practice through encouraging and supporting innovation in instruction that will tangibly improve services to students.
The Fund will strengthen the University's focus on student learning by providing relevant and up-to-date material along with easier access to inspiring learning environments that combine teaching excellence with high quality courses and programs.
The IES Fund includes innovative education support for the following areas:
Instructor Supports
Student Supports
Curriculum Development and Professional Development (CDPD) Supports
Applications are accepted year round while funding is available and is based on fiscal year (April 1 to March 31). 
Application Deadlines
January 31 deadline for funding period April 1 to July 31
May 31 deadline for funding period August 1 to November 30
September 30 deadline for December 1 to March 31
To Apply
Review Eligibility and Fact Sheet Sections Below
Application Form (PDF)
Application Form (Word)
Forward your application to BCGEU IES Support member (ER@viu.ca). 
Apply as soon as possible. Applications are viewed at set intervals. CDPD requests must be submitted by the deadline indicated under the Fact Sheet below. All other requests that fall under Instructor and/or Student Supports can be submitted at any time. 
Applications