People matter at VIU.
VIU is a values-based institution where the work of all employees is appreciated. It is the commitment and dedication of those who are part of our campus community that contributes to our strength and builds our reputation. Through this established and valued community, great things emerge.
VIU STAFF HONOURED AT LONG-SERVICE EVENT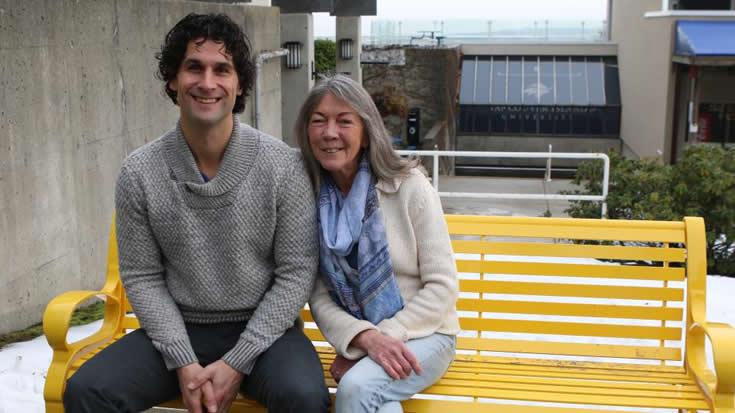 Guy Le Masurier, Jennifer Franklin among the many VIU employees recognized for their years of service
Their backgrounds and positions may differ – but Jennifer Franklin and Guy Le Masurier are united by a long-term commitment to Vancouver Island University.
Both are being recognized at this year's long-service reception, an annual event that honours employees who have worked at VIU from 10 to 40 years (the Jan. 12 occasion will recognize 119 long-service recipients).
"Our faculty and staff are vital to the University's success. They create the high-quality learning environment in which our students learn and excel," says Dr. Ralph Nilson, VIU's President and Vice-Chancellor. "We cherish our community, our people and their well-being. Celebration is a core value at VIU – and we look forward to celebrating our long-service employees, whose contributions foster a friendly, supportive and creative community for all who learn and work here."
Franklin first applied for a job at Malaspina College's (as VIU was then called) audio-visual department in 1974, when she was 20 years old. "They were worried about hiring me because I was so young," says Franklin. "They thought I wasn't going to stick around."
Needless to say, those fears proved unfounded, as Franklin has remained at VIU for more than four decades. Today, she's a Media Advisor at VIU Library, which involves obtaining video resources for instructors and students.
When she began her job, 16mm films were the only format available. "We've gone from that to streaming video databases, and all of the stuff in-between," says Franklin. "It's been exciting to be in the midst of all that change."
For the last year and a half, she's worked on a full-time basis – but previously she was a part-time employee, a situation that also let her follow other passions and goals.
About 20 years ago, for example, she adopted her Haitian daughter (who is now studying journalism). She also ran a stained glass studio for about two decades in downtown Nanaimo.
"VIU has been such a great fit for me. I really enjoy my colleagues and my role, and the fact I was able to work part-time and pursue other important areas of my life," says Franklin, who plans to retire in a few years and return to working with glass – her first love.
Le Masurier, meanwhile, had a different route to VIU. Although he was born in Minnesota, he grew up in the Vancouver Island town of Comox.
After obtaining degrees at the University of Victoria and Arizona State University, Le Masurier began as an Assistant Professor of Kinesiology at Penn State University in the U.S.
He recalls his time there fondly. However, Le Masurier's research-intensive position meant that he wasn't able to spend much time teaching, which he greatly enjoys.
After a couple of years at Penn State, Le Masurier decided to return home to Vancouver Island. He began working at VIU's Nanaimo campus in 2006; as a Professor of Sport, Health and Physical Education, he teaches several courses each semester.
"My role at VIU allows me to build relationships with students, connecting with them and seeing them succeed," says Le Masurier, who lives on Protection Island with his wife. "It also allows me to live in a beautiful place – I love where I live and work. "