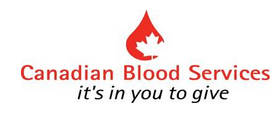 Canadian Blood Services 'Partner for Life' program is "for organizations who wish to make a direct impact on the lives of Canadians as a team. With every blood donation you make, you save lives, by donating, you share your health and vitality with someone who needs it. Whether it's for someone in your community or someone on the other side of the country, your single donation makes a difference in the lives of others." If one person can save the lives of up to three people, imagine what an organization can do!
If you choose to become a VIU 'Partner for Life for Employees' you can either:
complete the registration form with the Partner ID and bring the form with you to the clinic.
go online to Canadian Blood Services 'Partner for Life' and fill out the online form adding our Partner for Life ID - VIUV011640. You will also want to tick the two boxes at the bottom of the forms to guarantee that your information is not shared with VIU and that the Canadian Blood Services will not contact you regarding other programs and initiatives.
go to a clinic and complete the form there. All Partner ID numbers are on file at the clinics so they can look it up for you. Please tick the two boxes at the bottom of the form.
Canadian Blood Services clinics are set up in one location over a couple days, and due to space limitations on campus, we are unable to have clinics set up at VIU. Find the dates and locations of clinics in your area.

As a Partner for Life, VIU has set our goal at 75 life-saving donations per year. The upcoming clinics will be posted to the VIU TV Monitors and will also be posted on the HR Webpage.
Your support in this initiative is one more demonstration of how VIU employees are contributing to the well-being of our community.