Welcome to the Vancouver Island University community. Thank you for choosing VIU for your employment journey – we're glad you are here. This online toolkit shares helpful information for getting started as a new employee at VIU.  Visit the many sites in this menu for more information.
You should be informed about your onboarding plan by your new work unit. In the first few days you can expect to be introduced your team, included  in relevant email groups and MSTeams, get further clarity on the job duties and office working styles, and be provided with the tools and technology to get started with your work. Reach out to your office administrator for more information about this process.
About VIU
The VIU community acknowledges and thanks the Snuneymuxw, Quw'utsun, Tla'amin, Snaw-naw-as and Qualicum First Nations on whose traditional, unceded lands we teach, learn, research, live and share knowledge.
Located on British Columbia's spectacular West Coast, on the traditional territory of the Coast Salish Peoples, VIU offers both students and employees the opportunity to live and learn in one of the most beautiful university settings in Canada.
VIU has three supportive campus communities with a highly diverse student population. These communities are focused on innovative teaching methods, undergraduate and graduate research, open access, and creating an exceptional learning experience for our students.
The main campus of VIU is located in Nanaimo, with campuses in Duncan and Powell River and a centre in Parksville/Qualicum. VIU has evolved into a dynamic, internationally-recognized university supporting a student population in excess of 13,000 full- and part-time learners and employing over 2,000 faculty and staff. VIU proudly fosters student success, strong community connections, and international collaborations, and provides access to a wide range of programs – academic, applied, career/technical, vocational and developmental.
Every day, we welcome, support, and inspire those who study and work at VIU and have a deep commitment to learners in all their diversity. Our 2021 strategic plan draws on our historical connection to the communities and challenges of our region, and articulates our belief in the potential of all learners to benefit from a university education. Learn more about VIU and its Strategic Plan (2021-2026), People, Place, Potential
Your Workplace of Choice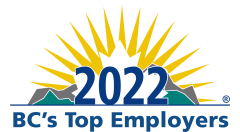 With more than 2,000 employees across several locations, VIU is one of the mid-Island's largest employers. Our positive reputation attracts a skilled and dedicated workforce. Since 2020, VIU has been named one of BC's top 100 employers by the Top Employers program. We are a proud recipient of this honour and all that it represents about the VIU employment experience.